Worcester: 01905 20981
Redditch: 01527 62104
Evesham: 01386 41095
Banbury: 01295 257628
Real oak furniture
Most items ready assembled and in stock
Free delivery to most postcodes on orders over £200 (*details)
14-day money back guarantee
Delivery Information
Our Chrismas delivery cut off dates
Highlands, Ireland and offshore Islands - 30 Nov
Rest of Scotland (Glasgow, Edinburgh) - 07 Dec

All other areas (Mainland UK) - 14 Dec for online customers and 21 Dec for local store customers

Delivery options
Please note: These delivery upgrades are currently only available for deliveries within 20 miles of our stores.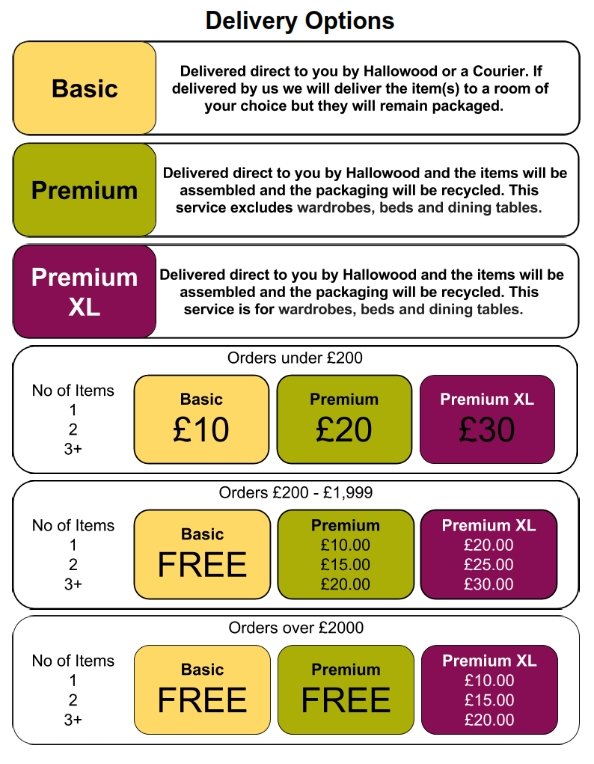 Where We Deliver - We deliver throughout the UK

Who Delivers - Depending on where you live, we will either deliver using our own delivery team or use our trusted couriers.

How Is Delivery Arranged - If you have ordered a small item, you will be notified by SMS/email of when to expect your order. If you live within 20 miles of one of our stores, we will contact you within 48 hours to arrange a date for delivery. For anything else, our courier will contact you usually within three-five working days by email/phone to book a suitable date for delivery.

What if the item I want is out of stock - If we are expecing the item to come back in stock, you will be able to pre-order on our website. As soon as it does come back in, it will be dispatched the next day. Get in touch with us if you have any queries.

Packaging - Our furniture is protected by clever packaging to avoid any damage in transport.

Aftercare - If you have any queries regarding your order please do not hesitate to contact us

on 01684 218924. Our team will be happy to help.

Peace of Mind - All of our furniture comes complete with a 3 year quality guarantee.
Please note: Free delivery is not applicable to clearance and ex-display items, surcharges apply for the following regions (see Delivery Area & Surcharge):
Lead Time - As we hold stock for most of the furniture, we can deliver the vast majority of orders within two weeks.
In the unlikely case that we run out of stock for some items, you will be informed as soon as we receive your order.