Real oak furniture
Most items ready assembled and in stock
Free UK mainland delivery on orders over £200*
14-day money back guarantee
Cheltenham Oak Range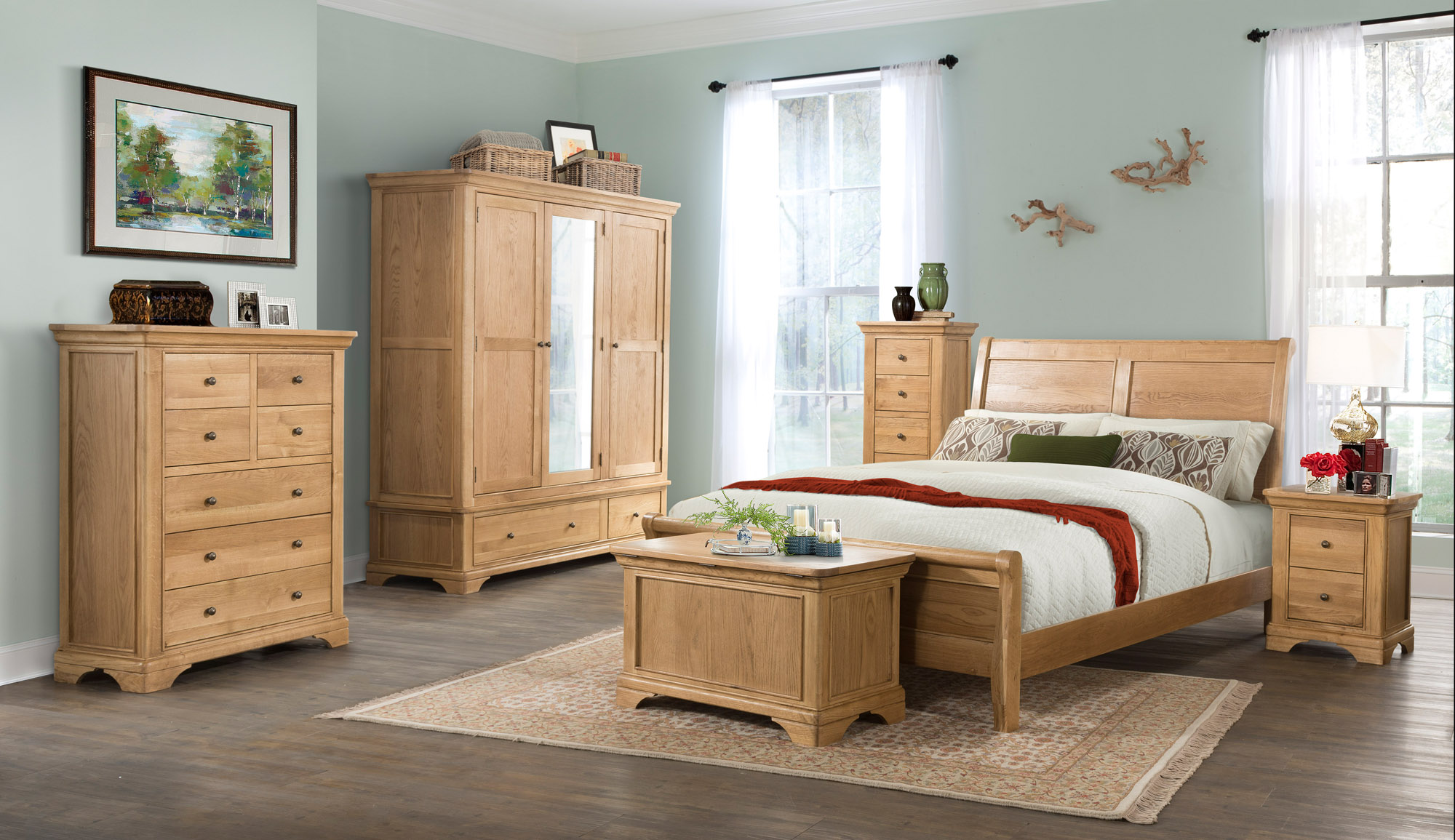 The Cheltenham Oak Bedroom Collection is a stylish range of bedroom furniture. Crafted from North American white oak, the collection comes with classic French styling and offers a variety of pieces in appealing light oak tones to suit any bedroom décor.
The Cheltenham Range includes functional and practical pieces such as a 2 drawer bedside and a dressing Table with matching stool and single mirror. As well as practicality, all the pieces in the range have clear visual appeal. The light oak is a versatile tone exuding a warm ambience that will create a sense of luxury in any bedroom.
Dovetailed drawers and stylish modern metal knob handles complement the pieces which all come with a protective light wax finish. Classic styling is capped off with elegant plinths and subtle rounded edging. The Cheltenham Oak Bedroom Collection will suit both traditional or more contemporary bedroom designs.
Special Offer

Normal Price: £435.00 now..

£289.00

CMB010

In Stock

Special Offer

Normal Price: £675.00 now..

£449.00

CMB016

In Stock

Special Offer

Normal Price: £509.00 now..

£339.00

CMB014

In Stock

Special Offer

Normal Price: £675.00 now..

£449.00

CMB012

In Stock

Special Offer

Normal Price: £375.00 now..

£255.00

CMB005

In Stock

Special Offer

Normal Price: £525.00 now..

£349.00

CMB018

In Stock

Special Offer

Normal Price: £105.00 now..

£75.00

CMB020

In Stock

Special Offer

Normal Price: £285.00 now..

£189.00

CMB008

In Stock

Special Offer

Cheltenham 4ft6 Sleigh Bed H 125 x W 144 x D 219cm
H 49¼ x W 56¾ x D 86¼inch

Normal Price: £725.00 now..

£485.00

CMB026

In Stock

Special Offer

Cheltenham 5ft Sleigh Bed H 125 x W 159 x D 229cm
H 49¼ x W 62¾ x D 90¼inch

Normal Price: £755.00 now..

£505.00

CMB028

In Stock

Special Offer

Cheltenham Double Wardobe With Drawer H 194.5 x W 121 x D 58cm
H 76¾ x W 47¾ x D 23inch

Normal Price: £1,019.00 now..

£679.00

CMB034

In Stock