Real oak furniture
Most items ready assembled and in stock
Free UK mainland delivery on orders over £200*
14-day money back guarantee
Ascot Painted Range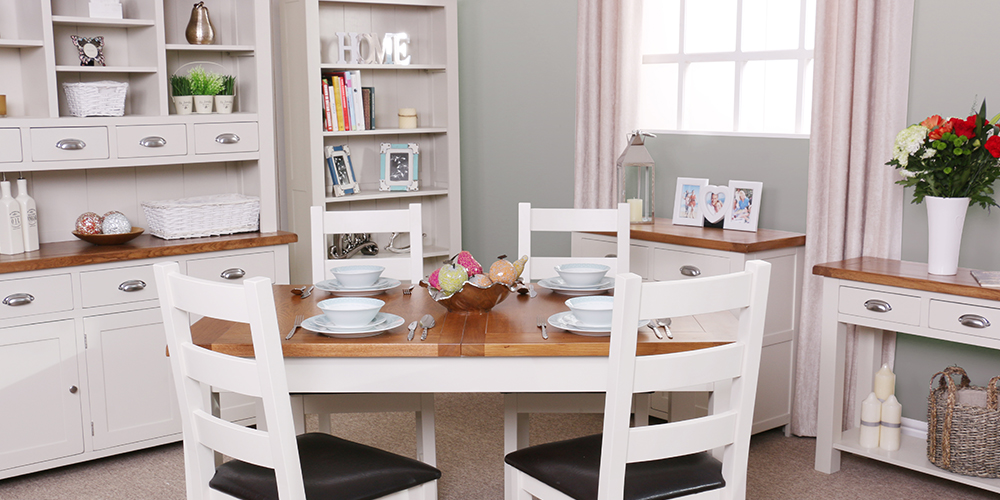 The Ascot Painted Range is a popular, practical and versatile range of stylish solid oak, oak veneer and birch wood furniture. With 30 different pieces to choose from, the Ascot Painted Range will complement any home and all types of interiors. Both traditional and contemporary looks suit the Ascot Range. Similarly, if you want to create a relaxed look, or something a bit more formal, this collection will fit the bill perfectly.
The wide choice within the collection means that you'll find an Ascot piece fit for all rooms in the home. From the living room to the dining room to the bedroom, this attractively designed range features beautiful pieces for them all.
As well as having a fantastic look, the Ascot Painted Range is particularly practical and versatile. Many pieces could have several possible uses around the home. Whether it's a large feature piece of furniture, such as a king size bed or a dining table; or smaller functional pieces, such as lamp tables or console tables, you will find the Ascot Painted Range will suit all needs.
With the Ascot range, it's the stone white painted finish complementing the solid oak, oak veneers and birch wood that draws the eye. Dovetail joints, brushed-steel handles and a protective lacquer finish ensure that the Ascot look is immaculate and impressive.
For a versatile and appealing design style in your home, the Ascot Painted Range has it all.
Click here to view our brochure
Special Offer

Ascot Large Fixed Dining Table H 76 x W 150 x D 90cm
H 30 x W 59¼ x D 35½inch

Normal Price: £522.00 now..

£352.35

ASC-TABL

Out of stock

Special Offer

Normal Price: £378.00 now..

£179.10

ASC-COF

Out of stock

Special Offer

Normal Price: £131.00 now..

£85.50

ASC-MIR

Out of stock

Special Offer

Normal Price: £414.00 now..

£179.10

ASC-DTAB

Out of stock

Special Offer

Ascot Dressing Table Mirror H 45 x W 59 x D 14cm
H 17¾ x W 23¼ x D 5¾inch

Normal Price: £71.00 now..

£40.50

ASC-DMIR

Out of stock