Dinner guests over Easter?
If you are anything like me there never seems to be enough seats at the table when you have guests. Whether you have a traditional dining room, a living room diner or a kitchen diner, the dining table is a central feature.
So what are your options?
Extending tables – If day to day you only need 4 seats but occasionally you need more then look out for a table that extends. Different types of mechanism - centrally extending or extending from one or either end. The main thing to take into account is that once fully extended you have enough room left to add chairs around the table.
TOP TIP - No matter what shape your table is, You should allow at least 60-70cm on top of the dining table's dimensions to allow people to take their seats. It's a good idea to allow 90cm, for walking about wherever possible.
Bench seating – Benches are a great way to get more bums in a row… well small ones anyway. Often traditionally associated more with informal dining like in a kitchen they are now very much back in trend and can often be seen gracing the funkiest of restaurants – very Up-cycling chic at the moment to have a variety of mix match chairs and a bench – often painted all different colours.
Fixed Banquette seating –Awkward spaces can benefit from fixing the table position by using fixed seating. TOP TIP: if possible build in storage space with a lift up seat or a pull out drawer – can create loads of extra storage.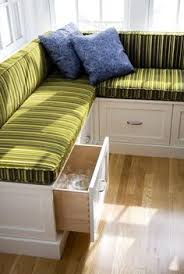 Occasional seating – Do you have a bench in the hallway or kitchen that could be used as additional occasional seating? Think about multi-use furniture when planning your dining area especially if purchasing an extending table that you only need additional seats for on occasion.