Is your furniture family friendly?
If your house is anything like ours, then you wont be prepared for a toddler to visit…. I have children but they are well past that stage of toddling and so when a friend dropped in recently with her 16 month old who is soooooo cute, but also sooooooo much on the move now it was really obvious that I wasn't prepared and my house was not certainly not.
I had forgotten how children of that age when they are just finding their feet have heads at just the right (Or wrong) height to bang into the corner of tables, fall off things they can climb onto and generally get hurt accidently. In our living/dining room (the place where our family spends most of its home time) there are lots of things to grab onto for a teetering tot, the coffee table, the lamp tables, the sofa, the fireplace, the dining chairs, dining table and of course the china cabinet… recipe for potential disaster!
If you actually want to relax a little in your own home when young children are about, and have peace of mind it goes without saying that any room your child spends a lot of time in is going to be the one that you need to make the safest. Take a look at these great furniture ideas that can help modifying your existing layout.
Little Fingers…
Little fingers do seem to have a habit of getting trapped in doors and lids so look out for family friendly furniture that has finger gaps and locking hinges. Safe furniture doesnt have to be ugly, you can even have beautiful real oak - check out the Hallowood Waverly Oak Blanket Box, stylish and safe. For the kitchen there are a wide variety of child saftey locks on sale to keep little fingers out of your kitchen cupboards. If you dont want anything too fiddly then look out for this great magnetic idea "Magic Cupboard Lock"
Bumped heads…
Avoid un-necessary head (or any other body part for that matter) bumps by choosing furniture with rounded edges. If you want to buy beautiful wooden furniture without sharp edges, then check out the new Everest range from Hallowood. These stylish pieces are not only very much in vogue at the moment following the interior design trend towards rounded corners but also the smooth rounded edges are much softer and child friendly.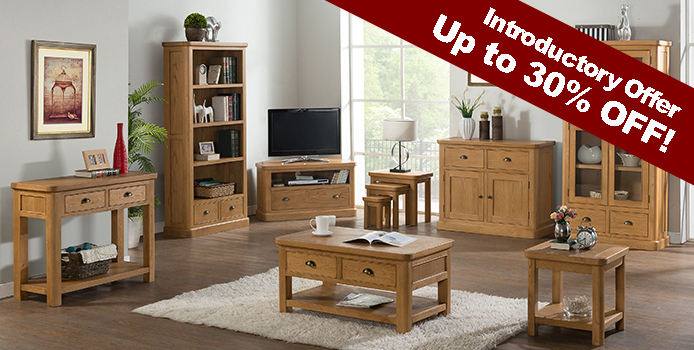 Cushion the blow…
Padded ottomans/footstools can double up as a coffee table or additional seating. Also it may seem obvious but a nice soft rug not only cushions falls against hard floors but also doubles as a play mat for your little ones. Top tip if you have children living with you or staying regularly then make sure any rug you buy can be spot cleaned as there are bound to be spills. In fact be on the lookout when choosing any material covered furniture, as fabrics like linen or suede can be hard to clean so why not choose easy to wipe down materials such as vinyl or leather for seat pads and sofas.
Hot, hot, hot…
In the modern kitchen some built in ovens now have cool touch technology but if yours is not one of these then you may be wise to invest in something like the safetots oven door guard to protect little fingers from the intense heat of oven doors when the oven is in use.
What ever you do remember if you can, get down on all fours and examine the furniture from your child's perspective. Look out for hard pointed corners and edges which could harm your child during a fall, foot holds that could allow the furniture to be used as a ladder to reach unsafe heights and/or your breakables.