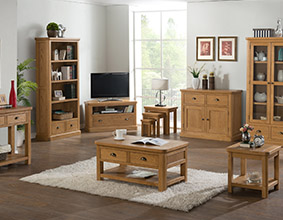 How to style a bookcase
A well-styled bookcase can be achieved using random accessories from around your home. Bookcases come in all shapes, sizes and colours and can be used all around the house. Whether built-in or freestanding, no matter your budget, bookcases are for more than books.
Bringing your accessories together to create a picture-perfect result you need to think about:
Creating shapes
You can create an overall balanced appearance by looking at the shapes you are making. If you are mixing books with home accessories, then try a mix of vertical and horizontal arrangements. By doing this both within the same shelf and then on the shelves below or above you are creating a type of symmetry – try not to duplicate the arrangement on multiple shelves as this will look sterile and not very natural.
Balance it out
Remember a bookcase doesn't have to be a fixed display; as it has no doors it is easily accessed, so make use of it for storing items you use all the time, especially if you are creating a display in the hallway or kitchen. Finding the balance is the key – Aim to not add too much so it looks cluttered and not add too little, so it appears bare.
Colour
Colour blocking/grouping items together can create impact. For a subtle effect keep everything within the same colour family, i.e. choose different hues of the same colour. When decorating your home, you may not want to add vibrant colour to your walls so a subtler way to introduce vibrant colours into your home décor without much risk is to add them in in your accessories. The key is to arrange the items in such a way that they contrast yet complement one another.
Mix it up
Mixing styles and items can create an eclectic look (Very effective if you are looking for a shabby chic look or for a sleeker and more minimal look choose simple shapes with a modern look.
There is truly nothing like a well styled bookcase to add warmth, intrigue, and uniqueness to a space. Depending on the overall effect you want to achieve you can style your accessories accordingly.