Redditch:
01527 62104
Evesham:
01386 41095
Banbury:
01295 257628
Real oak furniture
Most items ready assembled and in stock
Free delivery to most postcodes on orders over £200 (*details)
14-day money back guarantee
Our Categories
Shop By
Range

Color

Height

Width

Depth
Mattresses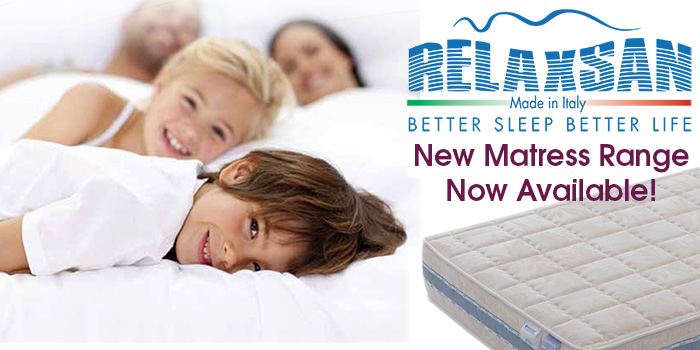 The fantastic range of Relaxsan mattresses are made in Italy to the highest specifications. They are available to fit all our bed frames: Single (3'); Double (4' 6") and King (5').
For convenience, all mattresses come ready-rolled and vacuum packed for easy transportation. All Relaxsan mattresses feature an open cell and foam structure which enables the mattress to breathe naturally. All our bed frames feature a specially designed slatted base to ensure maximum mattress ventilation, so the combination of the two produces considerable benefits and ensures a long life for the mattress. Bacteria and dust mite growth is greatly reduced due to the design of the mattresses meaning that they are allergy free.
The Moon Firm mattress gives great ergonomic support and the Memo Touch gives ideal support for your natural body shape as well of offering excellent support for your back. These key benefits are also seen in the Anatomical range and the Waterlattax mattress, which comes complete with Airyform design that gives perfect breathability and a 3D band that increases air flow throughout the mattress.